I just got back from one of the most tiring and boring holidays ever in my life. Liberated from the clutches of the SAF, I decided that a holiday was essential to the massive celebrations planned. Together with a group of ORD friends, we decided to embark on a journey up the mountains. Not any mountain for that matter. It had to be a mountain that required zero physical activity to climb. It had to be a mountain that does not require outdoor camping. It has to be a mountain accessible by a bus ride and it has to be a mountain that is filled with sin, entertainment and fun. Strictly no sutras, beads and chanting.
So after filtering out all the factors as mentioned, there was only one mountain standing. GENTING. It satisfied all prerequisites and we thought that we would be in for a fun ride. But here is a caveat for all those blinded by the fantasies of Genting. You only go to Genting strictly for the Theme Park or the Casino.
No other form of entertainment was worth it. Every thing was overpriced there and apart from stuffing our faces with food, there were little else to do that is different from any other shopping mall. We had bowling, we whiled away the hours at the arcade, we drank watermelon juice at the pub and we breathed cigarette smoke at the Casino.
For a recovering smoking addict, breathing in second hand smoke was the last thing I wanted to do, so I was quite glad when the security refused our entry when he saw our ICs the second time. The first time we entered, the guard at the entrance allowed us through into the Casino but the next day, the guard refused and claimed that 'our month not enough'. Too tired to argue into his flawed reason, we walked out and left. Considering how unprofessional the dealers were at the Casino, I was glad that I wasn't given a chance to gamble. I saw with my own eyes during my first visit there how the dealer actually dropped and revealed the card while distributing it to the players. I was even more shocked when the manager allowed play to carry on because that 'dropped' card should have cost the dealer his job and the Casino some money. Such unprofessionalism prompted me to find it totally unneccesary to part with my ringgit.
Essentially, we spent most of our time eating and walking around. The Theme Park was a great attraction but I gave most dangerous rides a pass due to a 'weak heart'. Ok, it's a euphemism for 'scaredy cat', 'no balls', 'gutless' etc etc but yeah I didn't seat the rides. Especially the space shot that brought you up to a certain height before dropping you down.
Anyway enough said. I will post some pictures of the 'fun' times that we had in Genting.
My friend passing his time by examining legs.
Super bowler.. As I let fly a superb bowl.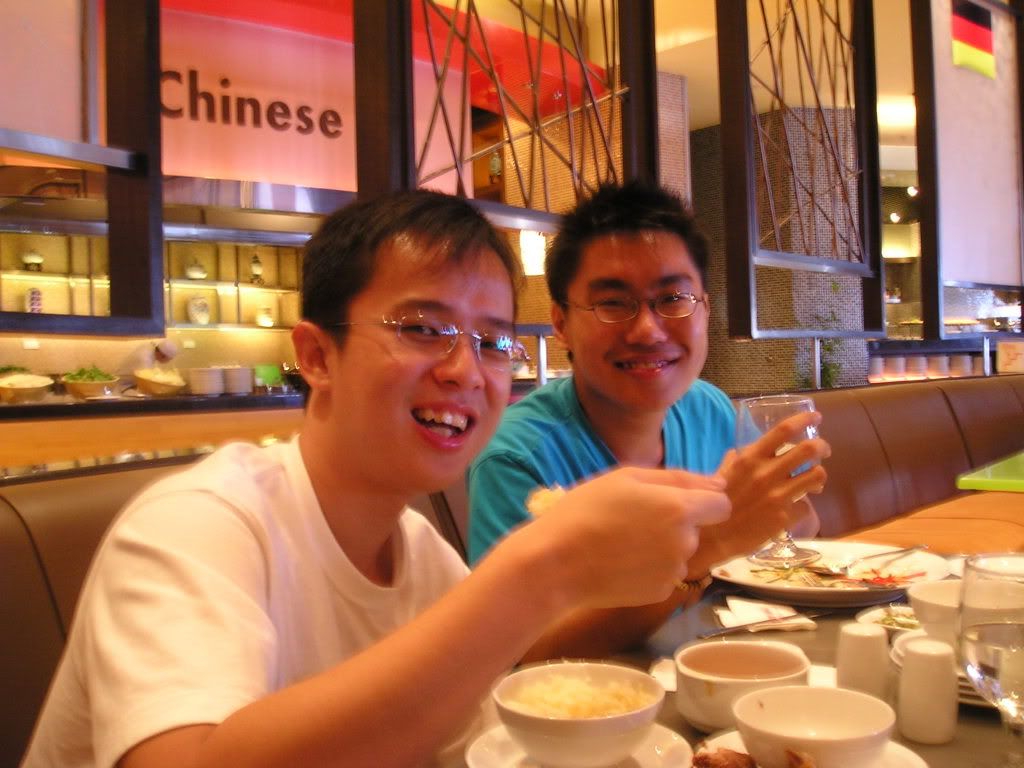 And to top it all off, A good Dinner. Cheers people.